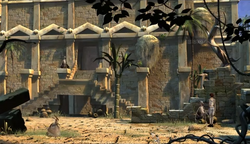 The Alatien on guard at the tower, who watches over the Teller. He challenges April to prove her knowledge of the Alatien folk stories before she can approach the Teller. He has a daughter named Sa'ena. His position seems to give him some authority amongst the Alatien, because he goes to represent them when his people are reconciled with the Maerum.

The Alatien Watchman is voiced by Frank Rivers.
Ad blocker interference detected!
Wikia is a free-to-use site that makes money from advertising. We have a modified experience for viewers using ad blockers

Wikia is not accessible if you've made further modifications. Remove the custom ad blocker rule(s) and the page will load as expected.