A drunken gambler and adoptive parent of April Ryan, who we discover has physically abused her for years. We never learn his full name. April rarely mentions her father, but carries the emotional scars left by his abuse. In her diary, April doesn't detail what happened to her, but describes her father as being very controlling and a bad role model for her adopted brothers, Daniel and Owen. When she calls her adoptive mother, April says that if she hadn't left home she'd probably be dead now. In addition, her father often berated her for drawing when she was little, which he regarded as "wasting time".
Though she doesn't mention this incident in her diary, April finally retaliated and pushed her father down the stairs, breaking his arm in the fall. This may have been a catalyst for her escape to Newport. Her issues with her father resurface during her Bak-Baar in the Banda's Spirit Dig. The 'shadowy April' who speaks for the painful side of the truth sneers at April's motivations for going on her journey. She says April shuts people out when they get too close for comfort, all because her father hurt her. During the Trial of Spirit, April - forced to face her darkest fear - is returned to her eight-year-old self, alone in her family's kitchen, and faced with the apparition of her father. He yells at her, demanding that she "come to Daddy", but April shows him her gold ring, engraved with 'Sweet Sixteen', which he gave her on her sixteenth birthday - the only pretty thing he ever gave her. The gift proves that he loves her after all. The spectre of her father breaks down and confesses the truth. When her mother brought her home from the hospital, he'd been out drinking with his friends, and when she handed April to him, he dropped her. April's legs were injured in the fall. The doctors doubted that she ever would be able to walk, but when April unexpectedly began to recover, his consuming guilt turned to resentment, as if she was defying him and mocking his pain. When the spectre admits this, April says she forgives him, and both the kitchen and the vision of her father disappear.

April's Father is voiced by John Henry Cox.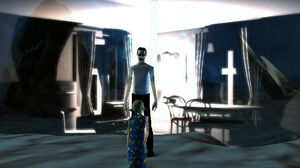 Ad blocker interference detected!
Wikia is a free-to-use site that makes money from advertising. We have a modified experience for viewers using ad blockers

Wikia is not accessible if you've made further modifications. Remove the custom ad blocker rule(s) and the page will load as expected.