Release History
Edit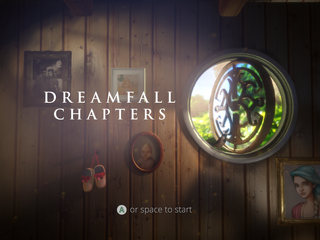 Book Four: Revelations is the fourth part of Dreamfall Chapters. The episode's name was revealed in tweets and facebook posts from RTG's official accounts on September 29th, 2015. Between Books 3 and 4, RTG ported the game to Unity 5.2 – a prerequisite for the impending PS4 version and a necessity to profit from further Unity patches. That, however, delayed the episode's release considerably. Due to major structural changes in the engine and quite a few bugs, vast parts of Books 1-3 needed extensive work. Unity's new lighting engine, Enlighten, worked totally differently, so RTG had to place all light sources anew, leading to quite a different graphical 'look' in the new version of those Books. In any case, the game's performance was significantly improved on Windows machines. Ragnar Tørnquist estimated the cost of the port to be in excess of 150,000$.[1]
In a Kickstarter update on October 22nd, 2015 (#87), Tørnquist revealed that the initial internal plan was to release Book 4 on October 21st, which would have been the anniversary of Book One's release. On November 30th, Book Four's trailer was released, with a release date set for December 3rd, 2015. When that day came, RTG managed a smooth episode release with Steam and GOG releasing almost simultaneously shortly after 3 PM CET.
By the time Book Four released, the German publisher had given up on the idea that German voiceover could be supplied together with the English language version. The more cost-effective decision was to combine voiceover recordings for Book Four and Five and deliver those files when the last part of the game was finished.
Length and Structure
Edit
Book Four continues the journey with chapters nine to eleven and the third interlude. As there's no interlude at the beginning of the Book, it seems likely that one of the planned sequences ended up on the cutting room floor. Players report between 4 and 5 hours for their first playthrough.
Chapters
Edit
Chapters in Dreamfall Chapters
Book One: Reborn:
Prologue, Adrift, Awakenings, Interlude
Book Two: Rebels:
Trials, Dreaming, Anamnesis
Book Three: Realms:
Interlude II, Machinations, Hunted, Crossings
Book Four: Revelations:
Journeys, Umbrae, Lux, Interlude III
Book Five: Redux:
Recall, Interlude IV, The Longest Journey, Epilogue
References
Edit