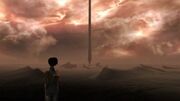 A ritual which passes the office and duties of the previous Guardian to his or her successor. Adrian and Gordon Halloway performed the Change of the Guard to install Gordon as the thirteenth Guardian, which seems to involve the outgoing Guardian stepping down and the incoming Guardian approaching the disc. After that, the Tower embraces the new Guardian.
Ad blocker interference detected!
Wikia is a free-to-use site that makes money from advertising. We have a modified experience for viewers using ad blockers

Wikia is not accessible if you've made further modifications. Remove the custom ad blocker rule(s) and the page will load as expected.