Dreamfall Chapters
Talk

1
747pages on
this wiki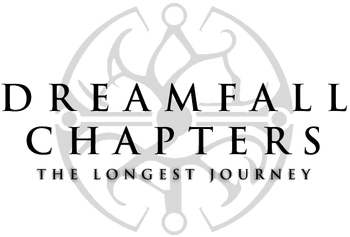 For a summary of Dreamfall's story, see Chapters of Dreamfall.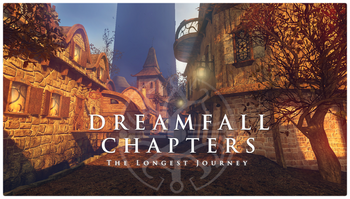 Dreamfall Chapters
is the third game of
The Longest Journey Saga
and the second (and final) of the "
Dreamer cycle
". Ragnar has confirmed that the story will begin where Dreamfall ended as well as rewinding to show some Dreamfall events from a different perspective, and that the story will follow multiple characters, "both old and new, and there will be more overlapping paths and storylines".
According an entry in Ragnar's blog the game will feature all of the main characters of the TLJ "saga". He also hinted that April Ryan's storyline will develop, and he might even include events set at various parts of the timeline, between the events of The Longest Journey and Dreamfall, before, and after, although this may be referring to future games after Dreamfall Chapters.[1]
A post on Ragnar's blog gave the following hint:[2]
The following paragraph contains two and a half falsehoods. Make of that what you want: Zoë's in it. And Crow. Gabriel gets his groove on. There will be puzzles. And an exciting story. You'll find out more about the Azadi. A Dragon strips down to the 'bare essentials' (if you know what I mean). And you'll learn the true identity of the Prophet.
Starting Points
Edit
Dreamfall Chapters at Red Thread Games 
Characters
Edit
The following characters are confirmed to be in DFC:
Playable Characters:
NPC's:
"Will find out more about":
The game-play will be very much like Dreamfall's, but with a revamped combat system and a replacement for the focus field. An early prototype of the gameplay was showed at Rezzed 2013 in a Developer Session. Ragnar expressed an early desire to see the game released on a range of platforms, including Mac, XBL, PSN and the Wii Store if feasible.[19] As the first stretch goal of the Kickstarter was met, Dreamfall Chapter will be released on PC, Mac and Linux. There is also an "extremely good" chance that the game will be seen on PS4 and/or Xbox One and they are even looking at the Wii U.[20]
Of the three playable characters, only Zoe and Kian have been confirmed. Ragnar has said, however, that the third character will be female[21] but thus far unknown to us.[22] The third character will likely not be revealed until the release of the game.[23]
Development
Edit
We will be researching an online-only continuation of the epic 'Longest Journey' saga, and we very much look forward to develop new chapters to the Dreamfall gaming community - Trond Arne Aas, Funcom CEO

On the 1st of March, 2007 Funcom announced that they had received funding from the Norwegian Film Fund (who partly funded the production of Dreamfall) to partially finance research and initial development for the episodic Dreamfall Chapters, a continuation of DF's story. Funcom decided to use this money to investigate online-only delivery methods of episodic content, mostly in an attempt to circumvent illegal copying and distribution.[24] While this initially proved quite controversial in the TLJ community, expectations gradually faded as production on Age of Conan began in earnest.
Erling Ellingson confirmed that, while AoC was in production, DF Chapters was on hold, but might be taken up again after its release.[25] When AoC was released development of TSW ramped up to full speed, and fans knew DF Chapters would be delayed until at least after the launch of that. Ragnar estimated the development time for DF Chapters as approximately 18 months.[26] After the launch of TSW in April 2012 rumours of a return to DF Chapters resurfaced every so often.
It was not until the 1st of November, 2012 that Funcom reported Ragnar had left to form Red Thread Games for the purpose of creating DF Chapters.[27] Funcom retains the IP for the TLJ series, but Red Thread are licenced to create DF Chapters "and other titles in that universe as well]".[28] The Norwegian Film Fund have again provided seed funding to create a prototypeKickstarter.[29], but the team also launched a Kickstarter to raise US$850,000 on the 8th of February, 2013. Ragnar stated that, while the budget for TLJ was ca. US$3million and DF US$5-6million, DFC will be somewhere over US$1million, with Red Thread members investing themselves[30]. Red Thread have also partnered with Blink Studios, which was itself formed from TLJ and DF veterans[31].
Ragnar has said that fans will be kept up to date with production, not least because funding will come largely from Kickstarter where investors are regularly updated on progress. Further announcements were promised over late 2012, with work on the prototype beginning before a further reveal in early 2013.[32] It is slated for release in November 2014.[33]
Developers
Edit
Ragnar Tornquist - creator, designer & writer
Dag Scheve - writer
Martin Bruusgaard - lead designer
Christer Sveen - art director
Kjetil Hjeldnes - technical director
Eigil Jarl Halse - technical director
Sigbjorn Galaen - artist
Rakel Johnsen - producer
Quintin Pan - programmer
Audun Tornquist - programmer
Morten Nøst - programmer
Hans Kristian Andersen - 3D character artist
Eivind Andvig - 3D character animator
Morgan Sandbæk - 3D artist, environment and props
Rikke Fjeld Jansen - artist
Christoffer Grav - Illustrator/Graphic Designer
Concept Art
Edit
Screenshots
Edit
External links
Edit
References
Edit