The Dreamfall Limited Edition was a special release of the PC-DVD version. The limited edition contains:
Dreamfall on DVD
Magnet's Dreamfall EP with four songs
A 92-page hardcover art book with concept art
4 signed postcards featuring concept art
Dreamfall: Collector's Edition (UK)
Edit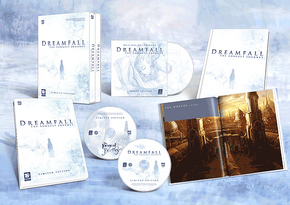 This PC-DVD edition was released on the 9th of February, 2007. It
Ragnar noted on his blog that a 3rd and final trailer for Dreamfall, that he created after the game had gone gold but was never released by Funcom, was included on this UK edition. He posted it to YouTube and linked to it on his site but it was later removed, presumably by order of marketing. You can view it on the Videos page of this wiki
Ad blocker interference detected!
Wikia is a free-to-use site that makes money from advertising. We have a modified experience for viewers using ad blockers

Wikia is not accessible if you've made further modifications. Remove the custom ad blocker rule(s) and the page will load as expected.