Epilogue: Threads
Talk

0
737pages on
this wiki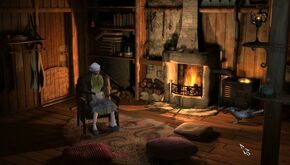 The story has come full circle - we are returned to the house, storyteller and young guests from the beginning of the story, only now we know we have been listening to
Lady Alvane
in the
House of All Worlds
. Her guests thank her for the story, though they want to hear how the
Balance
ended during
Gordon Halloway
's reign as
Guardian
. But Lady Alvane tells them it's too late for that.
They leave, and Lady Alvane is left musing by the fire when out comes...Crow, noticeably older but still the same as he always was. From the way they talk, it sounds as if Lady Alvane is actually April, living in a world where magic and science have been reunited, but as to whether she really is April, and how that Reunification came about, are questions left unanswered.
Themes & References
Edit
Presumably the title refers to threads in a figurative sense, as in 'threads of narrative'. This may be a check in favour of Lady Alvane being April, as her fate after she left the Guardian's Realm was the loosest thread in TLJ.