Interlude II is the second interlude of Dreamfall Chapters and the opening of Book Three: Realms. It follows Saga as an about seven year old child.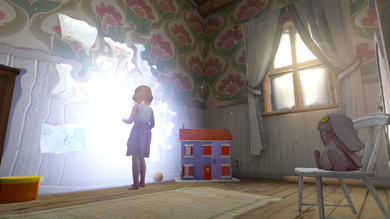 Since the last interlude, Saga's mother, Etta, has disappeared under mysterious circumstances and Saga doesn't remember her much. Saga's father, Magnus, asks her to pick up the drawings that she has left lying around. Each drawing depicts a scene from April's adventure in The Longest Journey. After Saga puts the drawings up on her bedroom wall in the correct order, a Shift opens and Saga walks through.
Walkthrough
Edit
The nine drawings' locations and order are:
Chapters in Dreamfall Chapters
Book One: Reborn:
Prologue, Adrift, Awakenings, Interlude
Book Two: Rebels:
Trials, Dreaming, Anamnesis
Book Three: Realms:
Interlude II, Machinations, Hunted, Crossings
Book Four: Revelations:
Journeys, Umbrae, Lux, Interlude III
Book Five: Redux:
Recall, Interlude IV, The Longest Journey, Epilogue
Ad blocker interference detected!
Wikia is a free-to-use site that makes money from advertising. We have a modified experience for viewers using ad blockers

Wikia is not accessible if you've made further modifications. Remove the custom ad blocker rule(s) and the page will load as expected.