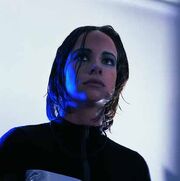 Katja Koopmann did a brief stint as a real-world April Ryan in the lead up to the release of The Longest Journey, in the same manner as promotional models of Lara Croft from Tomb Raider.
Born in Bremen on the 25th of January, 1977. Katja was studying Psychology at the University of Bremen when a friend entered her into a competition to find the 'face' of TLJ, which she won. She had to cut her long hair short for the role. At the time of her employment as the face of TLJ Katja's enjoyments were listed as sports, playing the piano and singing. She is 170cm tall, and her measurements were 90/65/90.
Katja also provided the voice on the promotional single released with TLJ, April - the balance. She even gave an all-singing, all-dancing performance of the song on the programme 'GIGA Games' on the now-defunct network NBC Europe, with two male back-up dancers dressed as... actually, I don't know.
See also:
Edit
Ad blocker interference detected!
Wikia is a free-to-use site that makes money from advertising. We have a modified experience for viewers using ad blockers

Wikia is not accessible if you've made further modifications. Remove the custom ad blocker rule(s) and the page will load as expected.