Reporter for Metro Channel Action News who reports on the crash of Shuttle 709.
Having recently moved to reporting from presenting gameshows, Lucinda blames her producer Gregory for suggesting the choice to move after the report on the shuttle crash loses out to re-runs of Gilligans Island with a measly five million viewers.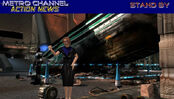 Ad blocker interference detected!
Wikia is a free-to-use site that makes money from advertising. We have a modified experience for viewers using ad blockers

Wikia is not accessible if you've made further modifications. Remove the custom ad blocker rule(s) and the page will load as expected.