Marcus Crozier
Talk

0
739pages on
this wiki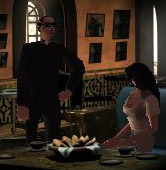 The Longest Journey
Edit
Friend of Emma, student at VAVA, patron of the Fringe Cafe, and fan of Royn Dale. It was Marcus who took the picture of April with Emma and Charlie at Florence Park.
Although uncredited, Ragnar Tornquist has since revealed that he recorded the few lines spoken by Marcus.
Dreamfall
Edit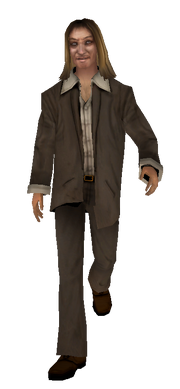 Marcus - whose surname is revealed to be 'Crozier' - reappears as supervisor of the sinister experiments at the Victory Hotel. According to Charlie while Marcus used to be a nice guy he got into Rapture in a big way, and is now a very different man. Many fans have suggested he is actually much more like Zack Lee, April's old neighbour.
Marcus now works for WATI, on work release from jail. He has been living in April's old room and runs into Zoe Castillo when she is guided there by Faith. In one conversation option he acts aggressively towards Zoe and she punches him in the nose. It is never explained why he is living in April's room, which remains relatively untouched compared to the rest of the Border House. He keeps his clothes in her old wardrobe, and Zoe finds an old picture of April, Emma, and Charlie (which Marcus probably took) tossed in the bottom of it. Curiously, this picture has slight differences to the one in TLJ. Perhaps Marcus kept his own picture for nostalgia's sake.
He agrees to help Zoe find Reza for 1 000 Yuan although, when she arranges to get him into the exclusive Fringe to meet later, he admits that he would have accepted that as payment enough. But Marcus double-crosses Zoe, possibly after reporting to WATI, and leads the Twins to her instead; an encounter which ends in them forcibly hooking Zoe to a Dreamer Console. Marcus has not been seen since.
Marcus Crozier is voiced by Brian Bloom.