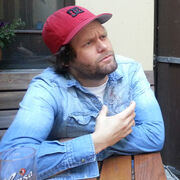 - I like MMO's where I have the freedom to customize my character. I love games where I can feel like a snowflake, that gives me the illusion of being unique. - Martin Bruusgaard [1]
Martin Harsheim Bruusgaard, born the 22nd of June [2], 1979 [3] is the lead designer at Red Thread Games, where he's working on Dreamfall Chapters.
Martin Bruusgaard originally wanted to be a doctor, but during his year in the Norwegian armed forces he did a course in HTML and "just fell in love"[4][5]. He then continued to do a master's degree in programming and system development while being an avid player of Anarchy Online. He applied for a job at Funcom, thinking he did not have the right qualifications, but still got the job[5]. Martin spent seven years at Funcom, where he worked on Age of Conan and The Secret World. He joined Red Thread Games after a "brief hiatus in the marketing industry", with the announcement saying "Good news, everyone!" [6].
Martin is known for his love of beanies, cannons and traditional Norwegian sweaters.
External link
Edit
References
Edit
Ad blocker interference detected!
Wikia is a free-to-use site that makes money from advertising. We have a modified experience for viewers using ad blockers

Wikia is not accessible if you've made further modifications. Remove the custom ad blocker rule(s) and the page will load as expected.