Minstrum Magda
Talk

0
739pages on
this wiki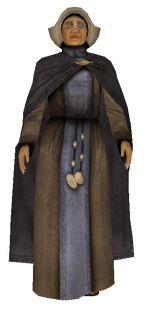 One of the few remaining Sentinel in Marcuria, Magda spends most of her time by the South Gate, running a soup kitchen for the homeless (Crazy Clara is one of her customers). She has a yellow skin and golden irises, similar but with slight different to the features of Na'ane which may be indicative of Irhadians. Magda is half Zhid [1].
Her status as a Minstrum is kept secret from the religiously intolerant Azadi, so she is not happy that Benrime Salmin sends Zoe Castillo looking for her. However, Magda does want to help Zoe, and suggests that she visit an Artisan in the Magic Ghetto for help in returning to Stark.
Magda's gender problematises the Sentinel's other name in TLJ as the "Fathers", which is probably why they have been provided with the alternative "Minstrum" to indicate all Sentinel rather than just those of the median rank.

Minstrum Magda is voiced by Deirdre Donnelly.
↑ playthrough (4:32:50)