The Longest Journey
Edit
Art gallery located near the Watertown Bridge in West Venice. Like many of the local areas, the name carries an Italian influence.
April Ryan goes to the Roma Gallery after she received a message from Emma to meet Cortez "where children visualize their dreams". At the time of TLJ there is a exhibition called "Growing Pains", an exhibition by and for kids and teenagers, which is being advertised in the Fringe Cafe along with free tear-off tickets.
One of the paintings displayed is by Warren Hughes; Cortez, who knew the Hughes family and is a friend of Warren's, tries to use the painting to teach April about the truth and soul of art. Also displayed in the Gallery is a sculpture which strongly resembles one of the Banda - another piece of artwork, like April's painting and Emma's holosculpture, which seems to be picking up on Arcadian influences through dreams.
April hopes to have her own show at the Roma Gallery one day.
Dreamfall
Edit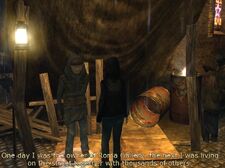 In Dreamfall: The Longest Journey, you may speak to the owner of the Roma Gallery. She is now homeless, and living on the streets of Venice. She lost everything after the Collapse.
"I have nothing left to live for. I use to own an art gallery here in Venice. Now look at me...."
"My gallery was really famous, but fame gets you nowhere when the world falls to pieces..."
"One day I was the owner of Roma Gallery, the next I was living on the street together with thousands of others."
Her name is not disclosed.
Ad blocker interference detected!
Wikia is a free-to-use site that makes money from advertising. We have a modified experience for viewers using ad blockers

Wikia is not accessible if you've made further modifications. Remove the custom ad blocker rule(s) and the page will load as expected.