Talk:Crow
739pages on
this wiki
On the 3rd, 5th and 6th of January 2006, before the release of Dreamfall, Ragnar posted 3 bits of information on his blog. Funcom's marketing team soon made him remove these as he had not cleared their publication with them. The first of these concerned Crow (the other two were information on 'Stark: Post Collapse' and 'WATIcorp: Building Your Future' that were reproduced virtually unchanged on dreamfall.com.
One of my favourite characters from The Longest Journey returns in Dreamfall - and not just because I like him so much. He is, in fact, very important to the plot.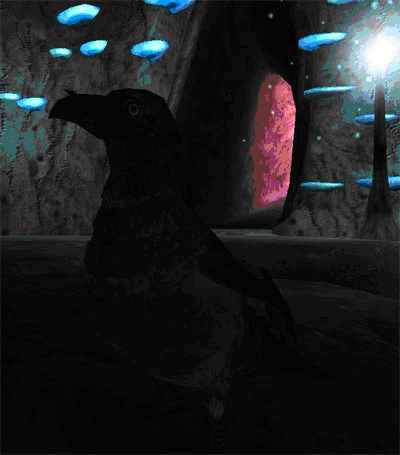 Almost ten years have passed since Crow and April left the Guardian's Realm together, embarking on a long journey north, into the mountains dividing the Northlands from the icy wastes beyond. Much has happened since then, and everyone and everything has changed - even Crow, who once famously proclaimed "I shall never, ever change - cross my beak and hope to fly - and definitely not because some chick tells me to, I'm nobody's bird but my own, sister."
After fleeing an impending committment he didn't feel ready for, Crow has spent the past few months in Dark People's Library this mysterious place, where shadowy figures tend to their arcane treasures. It is here that he meets an old friend that he'd given up hope of ever seeing again…
Like all the characters in Dreamfall, Crow has embarked on a journey that - one hopes - will make him a better pers– uh, bird. Will he regain the faith in friends and family that he lost so long ago? Or is he doomed, like others, to remain adrift?
And, most importantly, is he still the comic relief sidekick?
(Yes. Yes, he is. And he's still played by the enormously talented Roger Raines, who brought Crow to life - and a tear to my eye - in New York just prior to Christmas.)