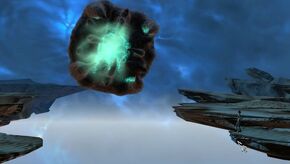 The first of the
Three Trials
, in which the
Guardian
-to-be must defeat a powerful enemy using their skills in war and
magic
.
For April this involved fighting the Chaos Vortex, and she accomplished this by using the Magic Binding Potion on the Talisman of the Balance, which seems to have absorbed the Vortex.
Ad blocker interference detected!
Wikia is a free-to-use site that makes money from advertising. We have a modified experience for viewers using ad blockers

Wikia is not accessible if you've made further modifications. Remove the custom ad blocker rule(s) and the page will load as expected.